VINTAGE OMOTOLA INTERVIEW ON 'THE JUICE' - 2013
Nollywood Biography: Omotola Jalade Ekeinde Soars As 470k Google Actress's Age, Wedding, Husband, Family, Movies
NOLLYWOOD'S NIGERIAN QUEEN, actress Omotola Jalade Ekeinde, is now such a big star across Africa that 500,000 fans Google her age, husband, wedding, family and any other trivia, each year. By Ben Arogundade.
NIGERIAN ACTRESS OMOTOLA JALADE EKEINDE scores a zero on the Hollywood Richter scale. She has never starred in a major motion picture. Her recent films, Ije and Last Flight to Abuja, mean nothing to devotees of Netflix and Lovefilm. In 2013 she met Steven Spielberg and Daniel Day Lewis, both of whom had previously never heard of her, despite her having starred in over 300 films. And yet she's bigger across the African diaspora than Halle Berry, and her TV show pulls more viewers than Oprah Winfrey's and Tyra Banks's at their height, combined. She is the first African celebrity ever to amass over one million Facebook likes, and in 2003 she was honoured in Time's prestigious list of the 100 Most Influential People In The World, alongside Kate Middleton, Michelle Obama and Beyoncé.
But mention her name to most people within the Western hemisphere, and they'll reply, "Omotola who?"
"I went to Tesco recently, and they practically had to shut down the store when people recognised me," she says. "I actually got scared."
OMOTOLA JALADE EKEINDE BIOGRAPHY
Within this age of global hyper communications, how can this kind of thing happen to an actress who is virtually unknown over here? The answer is, because she has made her name exclusively within Nollywood — the low budget, high output Nigerian film industry that is rapidly making its mark internationally, and which churns out more English language movies than Hollywood or Bollywood — somewhere between a staggering 1,000 and 2,000 a year for the straight-to-video market.
I meet Omotola in a photography studio in an industrial estate in Bermondsey, south-east London. I watch from the open plan kitchen area as she poses during aa photo-shoot for the cover of The Sunday Telegraph's Stella magazine. Everything about her is BIG. Big body, big hair, big personality, big laugh: she comes across like Oprah's big sister. The 38-year-old mother of four seems to enjoy being photographed, and is relaxed and happy in front of camera, joking with the photographer. When she laughs, her mouth is free and unrestrained, and her fleshy cheeks suddenly inflate upwards while her eyes compress into slits. Her face is round and cat-like and her skin is flawless, complete with a rich brown sheen, like polished ebony.
The photo session runs over, as the Nigerian actress is here with her own film crew who are recording the event for a future episode of her popular reality TV show, Omotola: The Real Me, which means lots of delays between shots as she does a number of star turns for her cameraman, explaining every aspect of each outfit change. As she talks into the camera lens she bubbles with excited energy, as if she's just about to open a surprise present.
THE AGE OF OMOSEXY
When we finally settle down to talk, she speaks with kinetic, girlish excitement, rattling off sentences in fast, extended flurries. After a few minutes I feel as if we've known each other for years. We are both Yorubas, one of Nigeria's major ethnic groups. Yoruba names all have meanings, and Omotola's refers to "a child who is equal to wealth". But to many of her Nigerian fans she is known simply as "Omosexy" — a nickname given to her by her 50-year-old husband — airline pilot Matthew Ekeinde. "He bought me a car back in 2009, and that was the plate number," she recalls. "All my cars have special plate numbers, like Omotola 1, etc." When I ask how many cars it goes up to, she laughs with embarrassment. "A few." When she first saw her personalised licence plate she was horrified. "I thought, Oh no. It sounded cocky — as if I was telling everybody I'm sexy, y'know-wha-I-mean?" She punctuates her sentences with this latter phrase, which she reels off as a single word. "Some people actually call me Omosexy," she continues, "not realising that my name is actually Omotola".
OMOTOLA'S MOVIES
Omosexy has been acting since she was 16. Her breakthrough role came in 1995, in the Nollywood classic, Mortal Inheritance, in which she played a sickle-cell patient fighting for her life. Since then she has established a staggering average of 16 movies a year. I put it to her that she must be the most prolific actress in the world. She laughs and shakes her head. "I am sure there are people that have beaten that record in Nigeria. Trust me. It is easy to turn around with straight-to-video movies. You have to remember that we are on very low budgets, so there is no time to wait."
BIRTH OF NOLLYWOOD
Nollywood exploded onto the film landscape less than 20 years ago from the bustling streets of Lagos. Its pioneers were traders and bootleggers who started out selling copies of Hollywood movies before graduating into producing their own titles, as an inexpensive way to procure more content for a burgeoning market. The traders finance the films, (the average budget is between £15,000 and £30,000), then sell copies in bulk to local operators, who then distribute them for sale in markets, shops and street-corners, for as little as £2 each. The financial equation is heavily problematic, with endemic piracy and issues over copyright and a lack of legally binding contracts. Nevertheless, what started as a ramshackle business is today worth an estimated $500 million a year. All this in a country that still lacks a reliable electricity supply.
I wonder what it is about Omotola that makes her popular enough to get mobbed in British supermarkets by her Afro-Caribbean fans. "I don't know," she shrugs. "I wish someone would tell me! People can relate to me, I suppose. They feel as if they know me. I have been acting since I was 16, and so a lot of my audience has grown up with me". At the same time, in a country heavily defined by religion and tradition, it helps that Omotola is seen as a stable role model — a God-fearing woman who has been married to Matthew Ekeinde for 17 years, and balances her work life with bringing up four children.
OMOTOLA JALADE EKEINDE BACKGROUND
Omotola Jalade was born in Lagos, Nigeria on February 7, 1978, into a middle class family of strict Methodists. Her father, Sola, was the manager of the Lagos country club, while her mother, Toyin, worked for a local supermarket chain. Omotola is the eldest of three children, and has two brothers, Tayo and Bolaji. She was a tomboy growing up — a strong, independent child who took no nonsense from the opposite sex. "I used for scare boys from a very young age," she insists. "They found me too much, because I knew what I wanted, and I would boss them around. In those days my mother would joke that I would never find a husband."
As a child Omotola was closest to her father. "He was a different kind of African man," she recalls. "He was very enlightened. He always asked me what I wanted, and encouraged me to speak up. He treated me like a boy." Her father died tragically in a car accident when Omotola was 12, while she was away at boarding school prepping for her exams. How was she affected by his death? "I didn't grieve," she says. "I didn't know how to process it. When I got home people were telling me that my mother had been crying for days, and that, as the eldest, I had to be strong for her and my younger brothers. I didn't know what to do, so I just bottled everything up. It affected me for many years afterwards as I came to realise I was hurting, and I was always very angry."
OMOTOLA'S PARENTS & FAMILY TRAUMA
Omotola would later play out her repressed grief on camera, using it as an emotional trigger to make herself cry whenever scripts called for it. But this soon created other problems. "The director would shout cut, and I would still be crying," she recalls. "I could bring the tears, but I could not control them. In the end I had to stop using that technique."
At the age of 16 Omotola met her future husband, Matthew Ekeinde, in church. He was so keen on her that the day after their first meeting he just showed up at her house unannounced. "I hadn't even had a shower yet, and he was knocking on my door. "He soon became a friend of the family. "He was almost like a father figure," she says. "He would drop my brothers at school and stuff."
OMOTOLA JALADE'S WEDDING
He proposed when Omotola was 18. They had two wedding ceremonies, the second of which took place in mid-air, aboard a Dash-7 aircraft flying from Lagos to Benin. Initially, Omotola's mother thought she was too young to marry, and asked Matthew to wait, but he refused. "She was really shocked," says Omotola. "She said, 'If you want something badly enough you wait for it,' but he said, 'If I want something I take it'. He was very, very bold. It was one of the things I really found fascinating about him. He's amazing. If I wasn't married to him I couldn't see myself with anybody else. I'm a handful." How is she a handful, I enquire? "Well, for example, I have just been away in the States for a month, and now I'm here in London. What Nigerian man can cope with that?"
MATTHEW EKEINDE: THE NEW NIGERIAN
Ekeinde is quickly becoming the reluctant poster boy for the new Nigerian man. "A lot of men come up to him on his flights and say, 'You're a real man — I can't believe how you deal with it all.' He also gets a lot of invitations from various bodies to come and speak about how he copes as a modern Nigerian man in a relationship with powerful working woman."
Although Omotola has gone on to star in over 300 films, it was actually music that was her first love. But, despite releasing three albums so far, her parallel career as a recording artist has so far not hit big. "Music doesn't pay the bills," she laments. "Audiences can't picture me as a singer, only an actor. It takes time." Meanwhile, she is busy enough with her other passion — philanthropy. "I actually first and foremost consider myself an activist and humanitarian," she says proudly. She started in 2005, working with the United Nations as a World Food Programme ambassador. She now has her own foundation, the Omotola Youth Empowerment Program, as well as campaigning for Amnesty International. "I have a lot of young people writing to me, feeling disillusioned. There's so much injustice in Africa, and people's lives being trampled on. The foundation was designed to give voice to these people."
OMOTOLA: THE REAL ME
Omotola's own voice has been greatly enhanced by the success of her reality TV show, Omotola: The Real Me. It is Africa's first ever show of its kind, and is watched by 150 million people across the continent — more than Big Brother, Meet The Kardashians and the talk shows of her African American counterparts, Oprah and Tyra. "People want to know about me and my life and my everyday struggles," she says. "A lot of women say to me that I am their role model and example. They say, 'If Omotola can do it, I can do it'.
GOOGLE ON OMOTOLA'S AGE, HUSBAND, FAMILY, WEDDING
Omotola's popularity acress the continent has now become such that her life is Googled extensively by her fans. Google, which collates and publishes all global searches across its paltform report that currently, approximately 7,000 people search the phrases, "Omotola Jalade Ekeinde age, husband, wedding, family, children", each month, while a further 33,000 Google different variations on her name. Overall, all this activity amounts to over 470,000 searches per year.
MILITARY SCHOOL
One of the major influences that has shaped her as an actress has been her schooling. Before her father died he sent her away to a military school in Kaduna, northern Nigeria. She was nine years old. I ask why he did it. "I have no idea" she replies. "My father was friends with a lot of military guys, so I guess he just wanted me to have that discipline and independence. It was strange, because I was very close to him. I didn't understand it for a very long time. I remember when he first dropped me off at boarding school, and he turned to walk away, and I looked at him and I said, Are you really going to leave me here and go back to Lagos? And he said 'Yes'. And I said, but why? And he said, 'You'll cope.'"
Left without answers, Omotola spent six tough years at the academy, away from her family. She was the youngest in her class, and was physically very small, and so she was bullied frequently. But gradually she learned to fight and to speak up for herself. "I think that's one of the reasons I am an activist today." She says. "In school, as tiny as I was, my voice was always the loudest."
CHILDREN LIKE SOLDIERS
Aside from regular school lessons the students were often treated more like soldiers than children. In the mornings they would do military-style drills, and latecomers were severely punished. "They'd make you crawl several metres on your knees, until your skin would practically fall off," she says. "It was hardcore. Also, if you did something wrong you would be sent to the guardroom. That's where they lock people up."
What do you mean? I ask.
"Like, confinement".
You mean, solitary confinement?
"Yes".
They would lock you up, as a nine-year-old, in solitary confinement?
Yes.
I stare at her in shocked silence. She stares back, straight-faced. One result of Omotola's harsh schooling is that she has become a tough parent herself. "I am known as a disciplinarian," she says matter-of-factly. "My kids might say that I'm a little too much." She's less a tiger mom — more like a tyrannosaurus. I ask if she would consider sending her kids to military school. She says she would. "You only think it's bad when you're there, you-know-wha-I-mean? But after you leave school and see how different you are from other students, you appreciate where you've come from. Looking back, that has been my bedrock, really, the thing that shaped my life, totally."
Another experience that has helped shape her is the fact she was also punished physically at home. "I was brought up by an Egba woman (a clan of Yorubas from western Nigeria) — my mother was very strict. When I was young, if I ever did anything wrong she would chase me down the hall, grab me, put me on the floor, sit on me — and she was very bootylicious as well — and then smack the living daylights out of me!"
NEW NOLLYWOOD MOVIES ARRIVE
Today, all of Omotola's cross media activity has catapulted her to the forefront of a movie industry that is more productive than Hollywood, and that employs more black people than they do. Graduating from straight-to-video movies, Omotola is now one of the kingpins of "new Nollywood" — the next chapter of the industry, which is characterised by better scripts, improved production values and cinema, rather than DVD releases. Most recently she starred as Suzie, a passenger freshly spurned by her adulterous lover, in aeroplane disaster movie, Last Flight To Abuja, which became the highest ever grossing film at the African box office. But there are obstacles to new Nollywood taking off, not least of which is the fact that Nigeria only has seven major cinemas, and ticket prices are way beyond the reach of most citizens.
The industry has also had other teething problems. In 2005 Omotola and a number of other top Nollywood stars were banned from working for 12 months by the Actors Guild Of Nigeria — a cartel of businessmen and marketers that run Nollywood — who objected to the demands and increasing power of Nollywood's A-listers. "Me and my fellow artistes were the ones who were pushing the envelope and changing the rules," Omotola insists. "We were the ones who would go and see what was going on in Hollywood, and then come back and force them to do it. That's how we got Nollywood where it is today. We started to demand more money, more quality, consideration and respect. We wanted contracts. So, these guys thought we suddenly got too big for our boots, and so they blacklisted us. Then Nollywood started having problems, because people stopped watching the movies, because we weren't in them, and so they called us back. They were hoping to promote a bunch of new stars, but it didn't work."
HALF-COOKED FOOD
But Nollywood's biggest problem by far is that the movies are not very good, including most of Omotola's. They are presented within a fuzzy, low budget aesthetic, in which histrionic acting combines with often ludicrous plotlines. The films drown in melodrama, and many scenes are unintentionally comic, rendering them surprisingly entertaining by default. Production values and the rigours of plot and character development are dispensed with in the mad rush to complete and distribute. It's akin to half-cooking food to feed impatient mouths — and so the results feel like first drafts.
Nevertheless, African audiences don't seem to care — as long as the films are cheap for a downtrodden public desperate for escapism, and they feature their own homegrown stars on screen. Watching actors who look like them and speak like them is resonating more than watching Angelina Jolie or George Clooney in action.
NOLLYWOOD OR HOLLYWOOD?
So, what does the future hold for Omotola? She recently made her debut in America, in the TV drama Hit The Floor, opposite R'n'B star, Akon. Will the next phase be Nollywood or Hollywood? "That question comes up all the time," she replies. "I will just go with the flow. We want to collaborate, we don't want to leave. We are hoping to be the first film industry that will pull Hollywood in, instead of them pulling us out." This may not be such a crazy idea, as Hollywood sees increasing amounts of money being invested in Nollywood, plus a massive audience of over one billion Africans, 155 million of which are in Nigeria alone. The best thing about Nollywood is its drive and ambition, and this may eventually see it through its myriad of problems.
Perhaps Omotola will soon be working with Daniel Day Lewis and Steven Spielberg, both of whom she met in 2013 at Time magazine's New York gala event for their annual '100 Most Influential People In The World' list, for which she was a surprise inclusion. I ask her if she took Spielberg's number. "Hello? I wouldn't be African if I didn't, now would I?"
Ben Arogundade's book, 'Black Beauty', is out now.
NOLLYWOOD NICE: Nigeria's movie industry is creating its own Halle Berrys and Denzel Washingtons. Omotola Jalade Ekeinde, a.ka. 'Omosexy' to her fans, is one of its biggest stars, with over 300 movies to her name. Her popularity is such that almost 500,000 fans now Google information about her age, husband, family and other trivia each year.
The Creativity of Author, Designer & Publisher Ben Arogundade
Home
Books
About
Articles
OMOTOLA'S WORLD: (From the top): Nollywood movie celebrity Omotola Jalade Ekeinde balances acting with a busy family life. Husband Matthew and their four children on vacation in London; Omotola and husband Matthew Ekeinde celebrate their 19th wedding anniversary, March 2015; Omotola meets movie director Steven Spielberg and actor Daniel Day-Lewis at the Time 100 gala, New York City, April 23, 2013.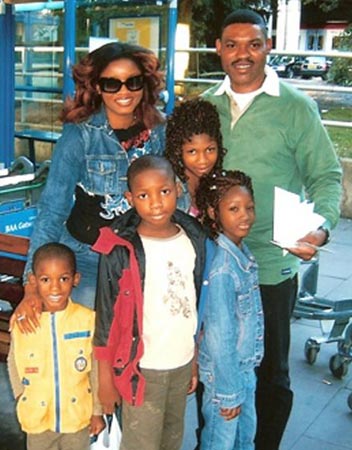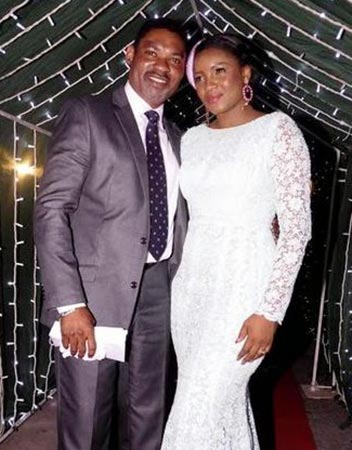 *OMOTOLA JALADE EKEINDE BIOGRAPHY — THE STATS
500
The number of people worldwide who Google the word, "Omosexy" each month.
7,000
The number of people worldwide who Google the terms, "Omotola Jalade Ekeinde age, husband, wedding, family, children", each month.
33,000
The number of people worldwide who Google the name, Omotola Jalade Ekeinde, each month.
*All figures for "Omotola Jalade Ekeinde Biography - The Stats", supplied by Google. Figures include global totals for laptop and desktop computers and mobile devices.
MORE ABOUT BLACK CELEBRITIES