WATCH REPORT ON CONTROVERSIAL 'NEW YORKER' OBAMA COVER 2008
'Obama: The Covers' - His Best Magazine Front Covers In New Commemorative Photo Biography Book
LIKE NO OTHER president in history, Barack Obama has featured on the covers of thousands of magazines from around the world. A new commemorative book profiles 101 of the best. By Ben Arogundade. [Sept. 21.2016]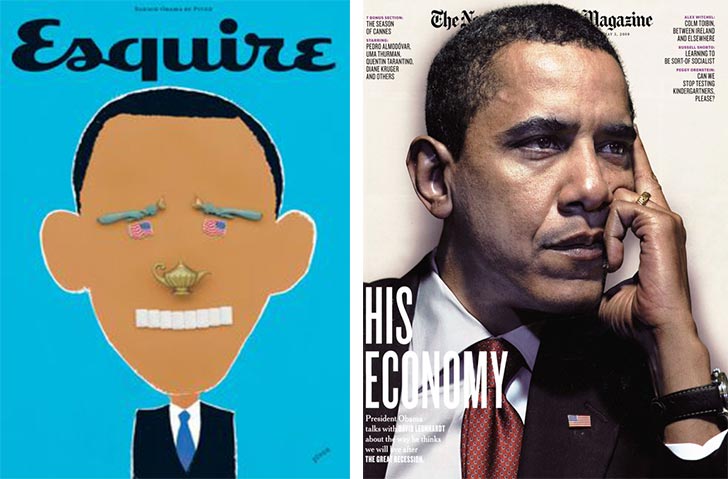 HE'S HAD MORE FRONT COVERS than most supermodels. For almost a decade President Barack Obama has been a rock star for newspaper and magazine publishers globally, featuring multiple times on the front pages of a broad range of publications, from The New Yorker to Rolling Stone. As his tenure as president draws to a close, 101 of the best examples of Obama cover art have been specially curated in a new commemorative book.
OBAMA MAGAZINE FRONT COVERS: PHOTO-BIOGRAPHY BOOK
Beginning in 2007 with the build up to his historic election victory, Obama's trajectory as a cover star has been sensational, as magazines that featured him on their front pages routinely sold out across the country. In 2008 he boosted sales in a period in which traditional celebrities waned in their page one pulling power. In the American Society of Magazine Editor's annual poll of the best covers of 2008, President Obama featured on no less than four of the front covers of the finalists.
There has never been a president in history that has straddled such a diversity of titles, from political and literary journals to hip-hop monthlies and comic books. Taken together they presented Obama's image in a myriad of guises — as deep thinker, messiah, superhero, model and sex symbol. In an era that had seen publishers traditionally shy away from using non-white faces on their covers for fear of falling sales, Obama's popularity was beyond precedent.
OBAMA MAGAZINE CONTROVERSY
His popularity also caused ripples outside of America. In November 2008, popular Iranian news weekly,
Shahrvand-e-Emrooz

(Today's Citizen), ran into trouble with the government when it featured the president-elect on its front cover, posing the question, "Why doesn't Iran have an Obama?" President Mahmoud Ahmadinejad was incensed by the headline, and promptly shut the magazine down.
ABOUT THE BOOK - OBAMA: THE COVERS
Obama: 101 Best Covers (White Labels Books) is intended as a celebratory souvenir photo-biography book for all those who have followed his meteoric rise, and perhaps missed out on getting a copy of that certain commemorative publication. Eight years in the making, the book aggregates the best of his newspaper and magazine front covers, which have been edited from many hundreds of examples from around the world. The narrative compares and contrasts their different styles of photography, art direction and typography, and the entries have been chosen to reflect as much creative diversity as possible.
BEST OF OBAMA: Since 2007 President Barack Obama has been a favourite amongst newspaper and magazine publishers, featuring on more front covers than any other president in history. Here is a sample of the best of them.
The Creativity of Author, Designer & Publisher Ben Arogundade
Home
Books
About
Articles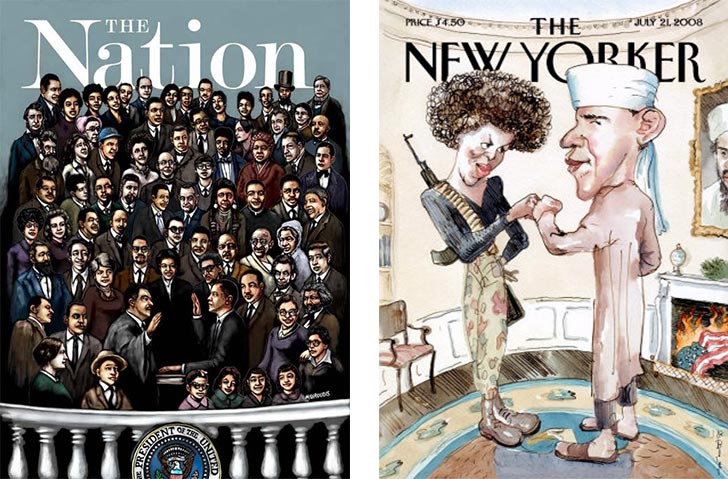 OBAMA'S COVER COOL: Top: Two contrasting Barack Obama magazine front covers, from British 'Esquire' (February 2009) and 'The New York Times Magazine', May 3, 2009. Above: 'The Nation' (February 2, 2009), depicts Obama being sworn into office in the presence of a plethora of civil rights leaders. Above right: 'The New Yorker' cover of July 21, 2008, caused controversy when it depicted Barack and Michelle Obama as terrorists in the White House. See video below for more info.
MORE ABOUT BARACK & MICHELLE OBAMA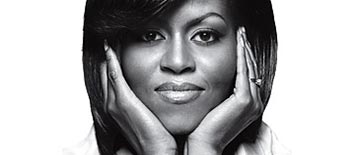 WHAT IS BLACK?
Is Barack Obama Black Or Mixed Race? The Answer May Surprise You.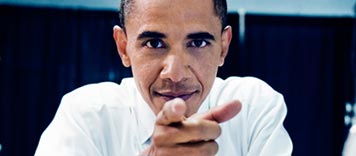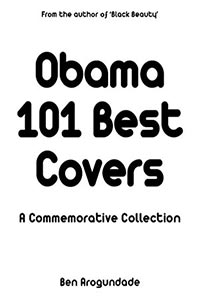 Title: 'Obama: 101 Best Covers - The Story Of His Presidency & Legacy In Photos, Images & Comment'
Category: Photography/biography/political figures/African American
Author: Ben Arogundade
Publisher: White Labels Books
ISBN:
978-0956939456